Review and Photos by John Katic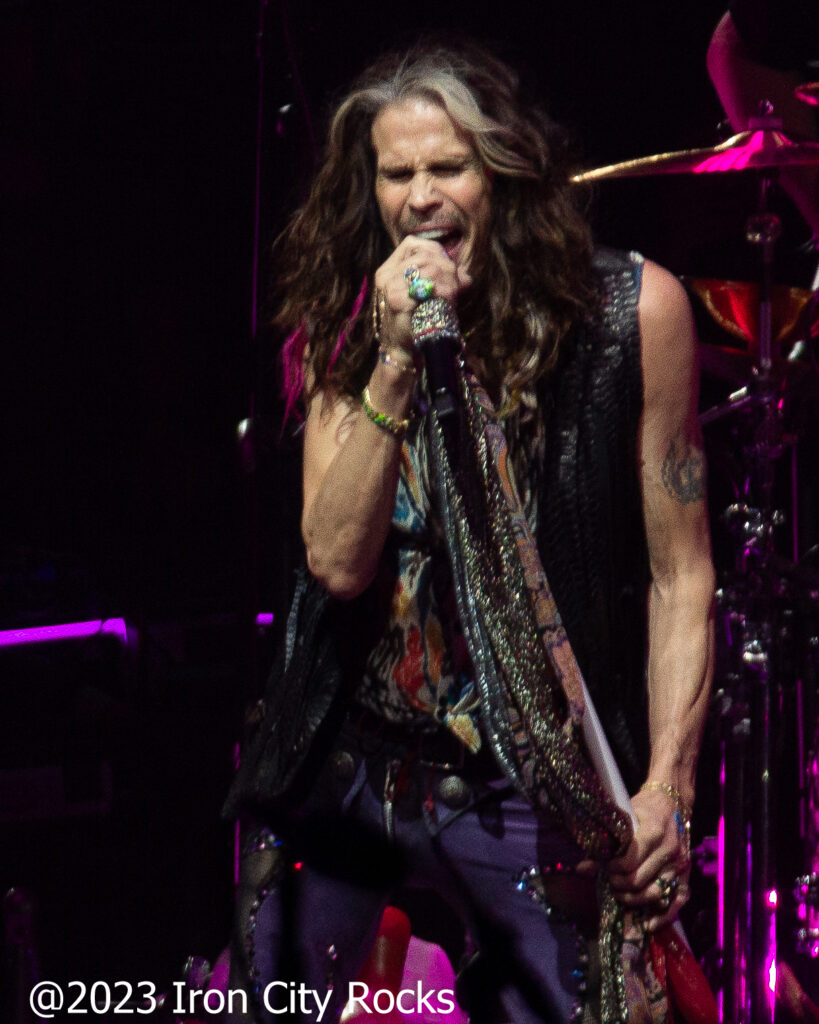 The Peace Out tour is being billed as Aerosmith's last go around. The second night of tour of the tour brought Steven Tyler, Joe Perry, Brad Whitford and Tom Hamilton (4/5th of the classic lineup) to the PPG Paints Arena in Pittsburgh. A band ready to call it quits, this was not.
A career retrospect video counted in the bad boys from Boston and at the conclusion the house lights dropped and the sell-out crowd popped. "Back in the Saddle" erupted. The energy was not what you would expect for a band from the 70's in their 70's. Steven gyrations haven't changed in decades. There was no drop off in energy. The "classic" track "Same Old Song and Dance" delighted the fans as they continued to rage. The band then switched into their more recent, still 30+ years mind you, hits of "Rad Doll", "Livin' On the Edge" and "Janie's Got a Gun". It was fairly evident that the audience ate up the post-reunion material more (if they were aware there ever was a reunion).
Later in the show Steven and Joe came to the end of the ego ramp on two chairs for some more intimate material. The 12-string, acoustic "Hangman Jury" featured Joe's slide work and managed to contain Steven as he managed to remain seated. Sadly the crowd decided to sit down during "Season of Wither" that this reviewer felt was a highlight of the show. The band went back to their debut for "Movin' Out" which featured some great soloing. It also featured Jeff Beck's #3 guitar which Jeff's widow gave to Joe. The band then blew the doors off with a cover of Fleetwood Mac's "Stop Messin' Around". The fans all jumped to their feat with the Armageddon track "I Don't Want To Miss A Thing". From their the energy kept the crowd standing until the end.
"Rats in the Cellar" was a tasty choice combined with "Toys in the Attic" kept the old school fans happy. They band then ended the night with "Dream On" and the obligatory "Walk This Way"
The first time I saw Aersomith in 1990 on the Pump tour. This Aerosmith was frankly better.
Set List:
Back in the Saddle
Same Old Song and Dance
Rag Doll
Livin' on the Edge
Janie's Got a Gun
No More No More
Cryin'
Adam's Apple
Hangman Jury
Season's of Wither
Movin' Out
Stop Messin' Around
I Don't Want To Miss a Thing
Rats in the Cellar
Sweet Emotion
Toys In the Attic
Dream On
Walk This Way