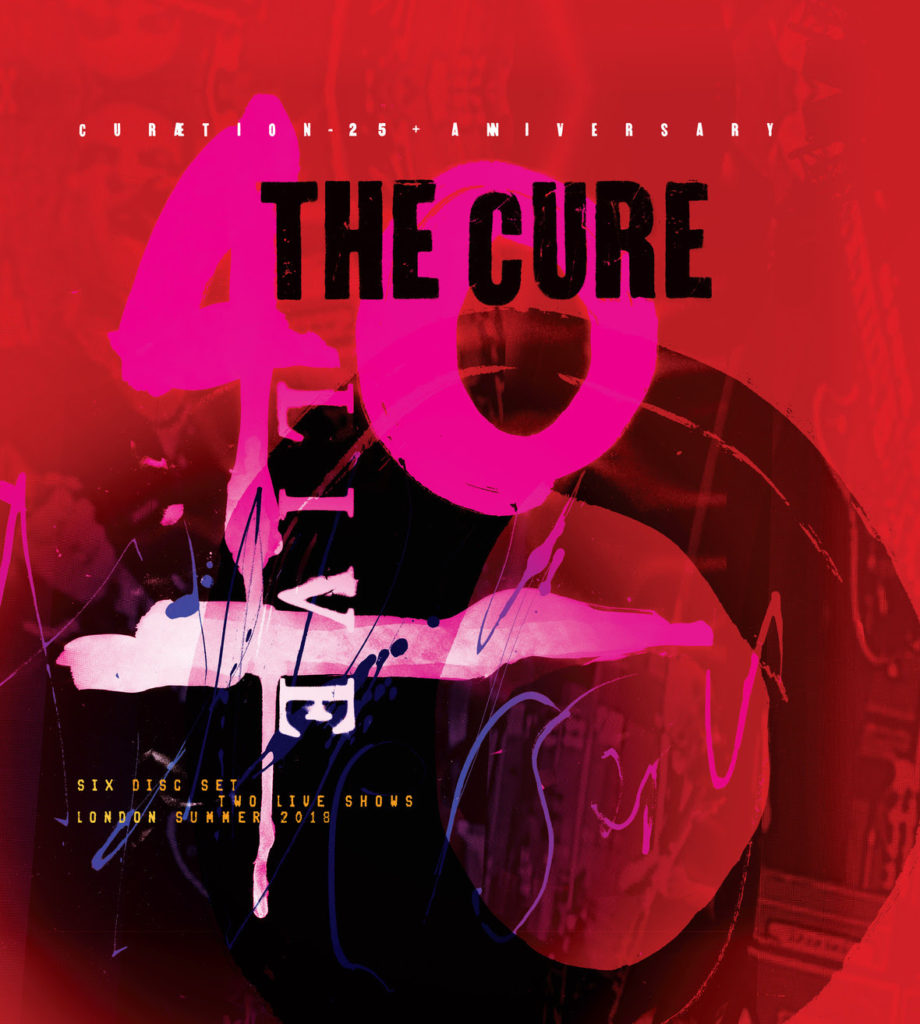 On October 18th, Eagle Rock Entertainment will release a massive 6-disc containing not one, but two full concerts from The Cure.
CURÆTION-25: From There To Here | From Here To There is the first of the two films and is directed by Nick Wickman. The film was shot in 2018 at the Robert Smith's Meltdown in London and featured a fascinating idea for a set list. The band played, in chronological order, one song from each of the 13 studio albums. Then in the middle did some new material before descending back through the 13 albums newest to oldest. The newest inductees into the Rock and Roll of Fame twisted their way through set with their trademark, hypnotic sounds. Hats off to Nick Wickman for capturing the band who was lit the way you'd expect a Cure show to be lit. Robert Smith's hair and red lips were about the extent of imagery with the exception of acid-infused, fractal patterns on the video screen. For those that maybe aren't that familiar with The Cure this film serves as a great introduction because of the fact it spans the entire catalog. It isn't littered with all the hits but gives you a great scope of their work. Also being The Cure has not done an extensive tour in the US in many years (it has been 23 years since they have been to Pittsburgh) this is a great way to see what we've been missing. Bassist Simmon Gallup in many ways shine laying a foundation with drummer Jason Cooper that guitarist Reeves Gabrels and keyboardist Roger O'Donnell seem to almost paint with sound on. No one would argue that Robert is the face of the band but dare I say that Simmon is the glue sonically? Wickman also gets creative with the bookends of the show using a very 80's film style for the earliest work that increases in quality as the songs get more recent. So if the first song looks poor in quality, be patient.
The second film Anniversary: 1978-2018 Live In Hyde Park London was directed by Tim Pope and shot on July 7, 2018. It offers a completely different visual on the band with a massive audience, vivid sunlight and Hyde Park's famous tree-house stage. Hyde Park offers much more of a "greatest hits" from Robert Smith and Company. It is somewhat appropriate on the 40th celebration to see that Robert's icon black explosion of hair is now laced with grey hair. As the sun starts to set and the light gets more of a yellow it provides a very unique view of the band in black. Dare I saw this was a much "happier" set? Maybe it was the massive crowd's energy combined with the more well-know songs but there was undeniably a bigger energy. "Love Song", "Just Like Heaven", "High", "Friday I'm in Love" and more fill the sea of UK fans. For a band that seems so morose on the outside one thing that really stood out were the subtle smiles between the band members during some of the song endings. You think of a band playing a show of that size having this so fine-tuned that they would be on auto-pilot. You can see they are real musicians just on a much bigger garage.
THE CURE: 40 LIVE – CURÆTION-25 + ANNIVERSARY limited edition Deluxe Box includes gatefold 2x Blu-ray/DVD and 4x CDs, covering both concerts with nearly 9 hours of content, plus a 40 page hardback book. The limited edition Hardbook includes 2x Blu-rays/DVDs and 16 page booklet. CURÆTION-25 and ANNIVERSARY are available as standalone concerts on Digital.
The Cure, Curaetion-25, Robert Smith's Meltdown, London, 6/24/18
SET 1
1. "Three Imaginary Boys"
2. "At Night"
3. "Other Voices"
4. "A Strange Day"
5. "Bananafishbones"
6. "A Night Like This"
7. "Like Cockatoos"
8. "Pictures of You"
9. "High"
10. "Jupiter Crash"
11. "39"
12. "Us or Them"
13. "It's Over"
14. "It Can Never Be the Same"
SET 2
15. "Step Into the Light"
16. "The Hungry Ghost"
17. "alt.end"
18. "Last Day of Summer"
19. "Want"
20. "From the Edge of the Deep Green Sea"
21. "Disintegration"
22. "If Only Tonight We Could Sleep"
23. "Sinking"
24. "Shake Dog Shake"
25. "One Hundred Years"
26. "Primary"
27. "A Forest"
28. "Boys Don't Cry"
The Cure, British Summer Time, Hyde Park, London, England, 7/7/18
1. "Plainsong"
2. "Pictures of You"
3. "High"
4. "A Night Like This"
5. "The Walk"
6. "End of the World"
7. "Lovesong"
8. "Push"
9. "In Between Days"
10. "Just Like Heaven"
11. "If Only Tonight We Could Sleep"
12. "Play For Today"
13. "A Forest"
14. "Shake Dog Shake"
15. "Burn"
16. "Fascination Street"
17. "Never Enough"
18. "From the Edge of the Deep Green Sea"
19. "Disintegration"
Encore
20. "Lullaby"
21. "The Caterpillar"
22. "Friday I'm in Love"
23. "Close to Me"
24. "Why Can't I Be You?"
25. "Boys Don't Cry"
26. "Jumping Someone Else's Train
27. "Grinding Halt"
28. "10:15 Saturday Night"
29. "Killing An Arab"