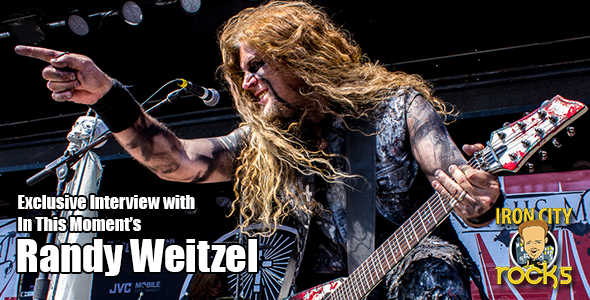 In 2014 Iron City Rocks had the distinct pleasure of inducting Pittsburgh area native Randy Weitzel of In This Moment into the Iron City Rocks Hall of Fame as voted on by our audience.  Randy was gracious enough to answer a few questions for us:
ICR:  Congratulations on being selected into the Iron City Rock's Hall of Fame.  Can you talk a little bit about growing up in Western Pennsylvania and what the music scene was like when you were cutting your teeth.
RW:  Thank you, and man, it's an honor for sure! My first show in Pittsburgh was at the Electric Banana in the late 80's. I was in a Thrash band called Phantom Crew. We eventually opened for Overkill a few times and Rob Halford's "Fight" at places like City Limits, Graffiti and Metropol. I'm pretty sure all of those places are closed now, although I just played at Metropol with In This Moment but it's called Club Zoo now. The coolest thing growing up was always going to festivals and concerts at The Star Lake Amphitheater (First Niagara Pavilion). When I finally got to play there with In This Moment, it was such a huge milestone for me. That's the place many of my dreams were born – watching my idols play on that very stage and dreaming about being able to do the same things! I am just so grateful and will certainly never forget that day.
ICR:  How did you get started playing guitar?
RW:  I grew up obsessed with KISS and spent my youth air jamming and spitting on my moms carpet pretending to spit blood like Gene. My Dad bought me my first guitar, mainly because they thought drums would be too loud. I'd find cassettes and guitar tab magazines and teach myself licks and tricks. My first KISS concert was at the Civic Arena right there in downtown Pittsburgh. KISS blew out the power and had to reschedule the show.
ICR:  Who were your biggest influences
RW:  Very theatrical bands like KISS and Motley Crüe really got me going. I loved the spectacle of it all. As I got older, the music I loved got heavier and less visual with a more "fuck you" attitude with bands like Metallica and Pantera. In This Moment is a perfect fit for me because we are mixing the visual aspect of my early influences with the heaviness of my later ones.
ICR:  Black Widow has been out for a few months now.  With the crazy amount of time you guys toured on Blood, how did you guys find time to record the album?
RW:  Actually, we skipped all the big summer festivals last year so Black Widow could be created and recorded. Sometimes it's good to lay low for a bit and come back with a bang. Our first show back was Knotfest, and it certainly was us coming back on the scene with a bang! It was a killer show with a killer crowd.
ICR:  In the studio how do you approach recording your parts
RW:  I came up with a few parts before entering the studio, but Kevin (Churko) would also have me simply noodle over a song for a few minutes to see what happened. We caught a sweet little clean guitar run in "Hallucinations" doing it that way. Recording with Kevin was kind of like hanging out and jamming with your bro. He'll say stuff like "give me one of those cool hammer on pull off harmonic things" and I'll go "Oh yeah like this?" and he'll say YES and get all excited and hi five me.
ICR:  Is there a lot of work translating the songs from the studio to the stage
RW:  Well, when we add a new song to the show we think of it in terms of presenting it as a complete thought musically and visually, so there is an incredible amount of work that goes into any particular number. It's pretty cool to be involved in something like this and really amazing when all the elements come together.
ICR:  What is your favorite thing about playing live.
RW:  Interaction with our audience, the Blood Legion. I'll make a crazy face and they'll make one back. It's pretty awesome.
ICR:  You guys have done a lot of festivals.  Do you prefer playing huge festivals or smaller shows.
RW:  There's something about those smaller club shows that's pretty bad ass. The people are closer to the stage, it's hot and sweaty and the energy exchange is super powerful. The festivals are awesome, just merely because of the sea of people, so it's hard to say what I like better, they're both awesome just different.
ICR:  You also have another project called 3/13 can you talk about that project and the new album coming out soon.
RW:  Three Thirteen is my side project bastard child from Hell. I basically record and work on it on my tour breaks with a couple of my buddies from CA. This next album is pretty thrashy. It's called Dawn of the Shred and I like to describe it as music to eat brains to.
ICR:  On your website – Phantom Republic Music and Design you have some pretty cool artwork available.   Can you talk about your artwork.
RW:  Back in the day I basically started out by doing band logos and hand drawn flyers and artwork for the bands I was in. Over the years I've gotten into computer graphics and stuff like that, but recently I've been doing some old school painting on used drumheads and canvases. It has kind of taken on a life of its own  which I'm very grateful for.
ICR:  Any closing comments for your fans.
RW:  Follow your dreams!!!!!!!!!
Be sure to check out In This Moment out on the road now supporting their latest release Black Widow.  Tour dates can be found here –  http://www.inthismomentofficial.com/tour.  They hit Pittsburgh on May 7th at Stage AE.  Also, to keep up to date with Randy and his latest news check out his website here – http://www.phantomrepublicmusicanddesign.com/Phantomrepublic/HOME.html