By Eric Thomson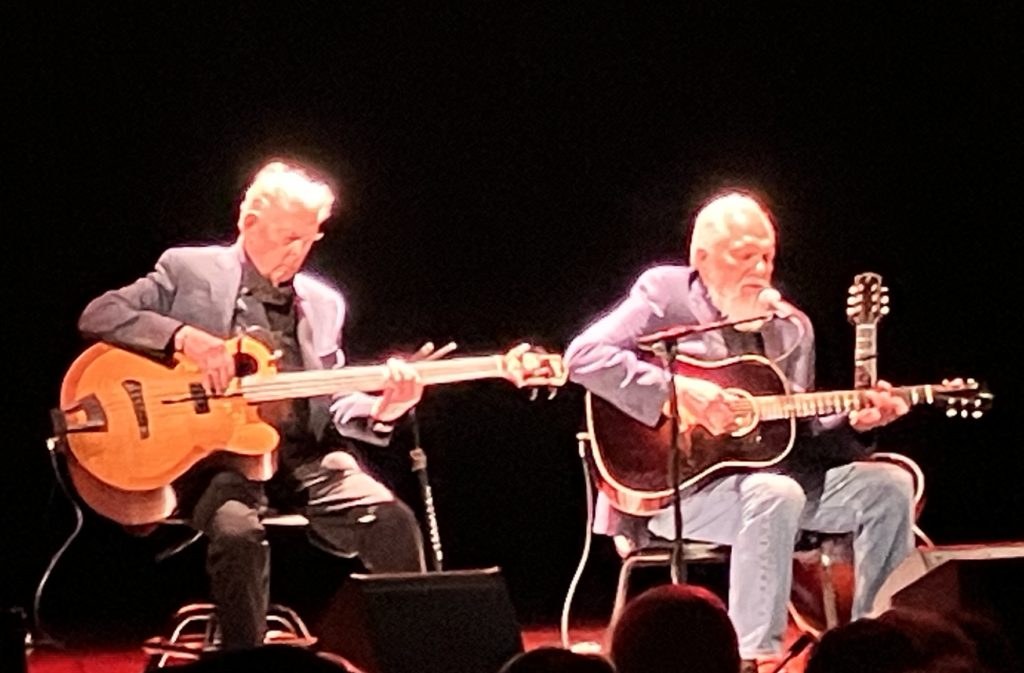 I had the pleasure of seeing Acoustic Hot Tuna, aka Jorma and Jack, on April 24 at the Carnegie Music Hall in Homestead.  While Jorma and Jack are 82 and 79 years old, respectively, the engaging performance that they delivered did not indicate this.  Their musicianship and mastery of their instruments is mind-blowing.  They effortlessly use the entire fret board and really the entire capabilities of their instruments without relying on pedals or effects.  The performance was high-energy on the one hand, yet understated and humble on the other.  Jorma and Jack mostly played music but sprinkled some light banter and self-deprecating humor into the performance.
Jorma Kaukonen and Jack Casady have been playing together since they met in Washington, DC in 1965. Playing together for nigh on 60 years allows them to act as one big instrument instead of two separate ones. They occasionally talk to one another during the performance, but what is not said is more important than what is. Their performance included several blues standards as well as songs from the Hot Tuna catalog.
The crowd included people of mostly all ages and walks of life.  Some members of the audience, including me, were not all that familiar with the Hot Tuna catalog.  Others had seen Hot Tuna perform several times, such as one lady who is 83 years old who attended with her 62-year-old son.  The mom assured me that we were in for a treat, and she was right.  Whether someone knows the Hot Tuna musical catalog well or not, this is a performance not to miss.  Acoustic Hot Tuna is wrapping up a 14-date tour of the east coast and mid-west on April  29.  They will also be performing on July 20 at the Great South Bay Music Festival in Patchogue, NY.