I first want to congratulate you for being inducted into the Iron City Rocks Pittsburgh Music Hall Of Fame.  As one of the first six artists inducted, it really speaks to your impact on your former hometown. Can you talk about your time living in Western-Pennsylvania?
Well, thank you and thanks to everyone who has listened to my guitar playing over the years.  I was born in Illinois, but I don't really remember it, because my parents moved to New Wilmington, PA when I was two or three years old. Soon after that, we moved to Greensburg, so really all my childhood memories are from there. I have so many good memories… I could write a book! I guess the main thing was just
growing up in an old, restored farm house with a big yard, my mom's amazing garden, and my dad always working on his ceramics or his motorcycles. I had a lot of time and a lot of freedom. Sometimes I would get bored, but then I started playing guitar, so I always had something to do.
As soon as I could play some simple chords and bend a few notes, I was always playing in a local band.  So I have some great memories of playing local clubs, firehalls, basements, and even in the middle of the woods – plugged into a gas-powered generator. That is absolutely the best training that a rock musician can have – to get real experience playing in a band. So my teenage years in PA really formed me as a musician.
You came from a music family if I'm not mistaken, what really got you interested in music and the guitar in particular?
My uncle Jimi, is a great guitar player and he was a huge influence on me. I actually didn't see him very often because he lived in Chicago. Every couple of years he would visit, and at first he would hold down chords and let me strum. Then when I started to really practice guitar, he gave me some great advice that really put me on the right path for sounding good. Mostly, just hearing a great guitar player so close-up gave
me a very specific idea of what I had to achieve in my own playing. My parents didn't play instruments, but they always had good records playing at home. They had most of the Beatles records, and lots of Stones…The Who, B.B. King, John Lee Hooker, The J. Geils Band, and classical music too. My dad would go listen to Mozart and then put on "The Animals – Greatest Hits". And 50's hits too. I heard all the doo-wop stuff like "Duke of Earl" and "Why Do Fools Fall in Love?".
Specifically on releases like Spaceship One you really show an appreciation for pop music. What drew you in that direction?
The Beatles records were really the first thing that made me want to be a musician. So I've always got those Beatles chords banging around in my head. I think that if my singing voice was better, I probably would have tried much harder to go in that direction… but it turns out that I have a low vocal range… and very long fingers, which are great for guitar playing.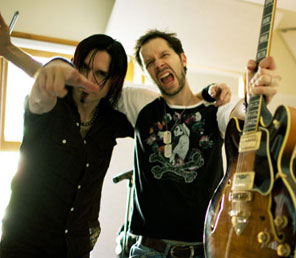 You did a record called United States with another product of Western-PA, Freddie Nelson. How did you guys pair up and can we expect future collaborations?
Right when I moved to L.A. to go to GIT (the Guitar Institute of Technology), all my friends (from PA) started telling me about this amazing guitar player named Freddie Nelson. I stayed in L.A. after I went to school, so I never got to meet him, but my friends kept telling me how great he was. Then years later, one of my friends from Greensburg gave me a demo that he had been working on. The demo was great and the singing was stunning. I asked him who the singer was, and he said, "Oh, that's Freddie Nelson." I had always heard of Freddie as a guitar player, so I was surprised at how well he sang. And the more that I listened to the demo, the more I thought it would be cool to do a project together. I really like the "United States" record that we did together. I hope we can do more in the future. It's just a matter of finding the time.
What brought you back to more instrumental, rock guitar music?
Well, I don't if anything brought me "back", because I've basically been playing music with vocals since the beginning of my career. I've done an occasional instrumental, but I never tried a complete album of the stuff until recently. It was really just a challenge to myself, to see if I could make a record that I would like to listen to. I was happy with the result, and I was surprised at how well the songs go over live. Right after I released my first instrumental album "Get Out of My Yard", I was suddenly playing with Joe Satriani on the G3 tour, and my popularity in the states and Europe seemed to go up a lot.
Playing with Billy Sheehan, is there things you do differently in your playing to give the music space?
Billy is a powerhouse. So I have to play with a lot of power and clarity myself to cut through the mix.  I learned quickly that certain fast phrases that I play just turn to sonic mush, so I tend to aim towards big, rhythmic notes, kind of like Leslie West from Mountain. I love Leslie's solo in "Mississippi Queen", and I'm trying to get that kind of phrasing into my own playing.
Mr. Big has always enjoyed remarkable success in the Pacific-Rim. What do you think it is that connects the band with the fans?
I have no idea. Sometimes, I think the language barrier helps us – If I say something dumb in an interview, the interpreter will translate it so I come off sounding smart – ha ha! But honestly, all I can do is make music. I have no way of predicting or explaining how people will react to it. I'm just happy to have people dig the music anywhere. Although, maybe I'm lucky about Japan because the food is so good there.  I'm happy to have success in Italy too. That's another good country for food.
In February 2012 Mr Big will release Live From The Living Room. Can you talk about where it was recorded and what we can expect?
That was a live acoustic show that we did in Japan right after the release of our "What If…" album.  Actually we did a couple songs electrically as well, but I can't remember if those ended up on the record or not. I do remember that it was pretty challenging to play some of the songs that are normally electric, on acoustic. The solo of "Daddy, Brother, Lover, Little Boy" in particular… That was a tough one, but I think I got most of it right.
In July of 2012 you are hosting the Great Guitar Escape. Can you talk about that event and what attendees can expect? Is this something for more proficient players or all skill ranges?
I always remember when I was a teenager… and going to GIT was such an inspiring experience. The best thing was seeing the teachers up-close. When you can sit a few feet from a musician and experience how they play… it's totally different than watching a video of them on YouTube or even seeing them from 20 rows back at a concert. The Great Guitar Escape is a music camp where I've picked the most inspiring
musicians I could think of… to teach and to perform. The number of tickets is limited, so every seat will be a great one. I've got bass, drums, sound engineering, and guitar tech courses as well, all by world-class pros.  I'm also making sure to have classes at varying skill levels, so any student can find a place where they are comfortable. I'll be teaching a class for beginners myself. Actually, I love this kind of teaching. I still
remember when I was a beginner and how I wish I could go back in time and steer myself in the right direction. I could save myself years of frustration! So this is what I want to give to the students. I want to show them how to break down barriers of technique and how to get their playing to continue improving.  Also, the camp is just a beautiful place. Can you tell I'm excited about it? I am. I hope to see you there!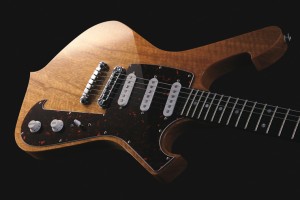 You have maintained a relationship with Ibanez guitars now for over two decades. Recently the Fireman guitar made it debut and you have had several incarnations of the PGM line. What does Ibanez bring to the table that has kept artists such as yourself and the likes of Joe Satriani and Steve Vai so loyal to them for the long-term?
Ibanez is very open to new ideas. If I can think of it, they can build it! The Fireman is a great example of this. I designed it on my computer using Photoshop. I took a picture of an Ibanez Iceman – the kind that Paul Stanley and Rick Nielsen used to play – then I flipped it upside-down, cut a piece of wood out so I can reach the high frets, reversed the volume and tone knobs, put in single-coils instead of humbuckers, tilted the
pickups at the opposite angle from a strat, chose a 24 ¾" scale for the neck, and asked for a big, thick set-neck joint and neck. This guitar is a world of opposites from the norm. I was blown away that Ibanez would even make a prototype for me. And then I loved it so much, that it's become my main guitar and they're now releasing it as a production model. I couldn't be happier.
Aside from the new record and the Great Guitar Escape, do you have any other plans for 2012 that you can share with us?
I'm doing some "VIP" lessons around the NAMM show in Anaheim, CA. These are small group lessons and they've already sold out. I'm also doing a "solo" show with my band a week later during the NAMM show, and I'll be sitting in at another jam session at NAMM. It's sort of an all-star thing. I'm not sure if it's been announced yet, so I'll wait to give out the details. I've got a bunch of other things planned, but I like to
wait until they're done… then I just put them on my website www.paulgilbert.com