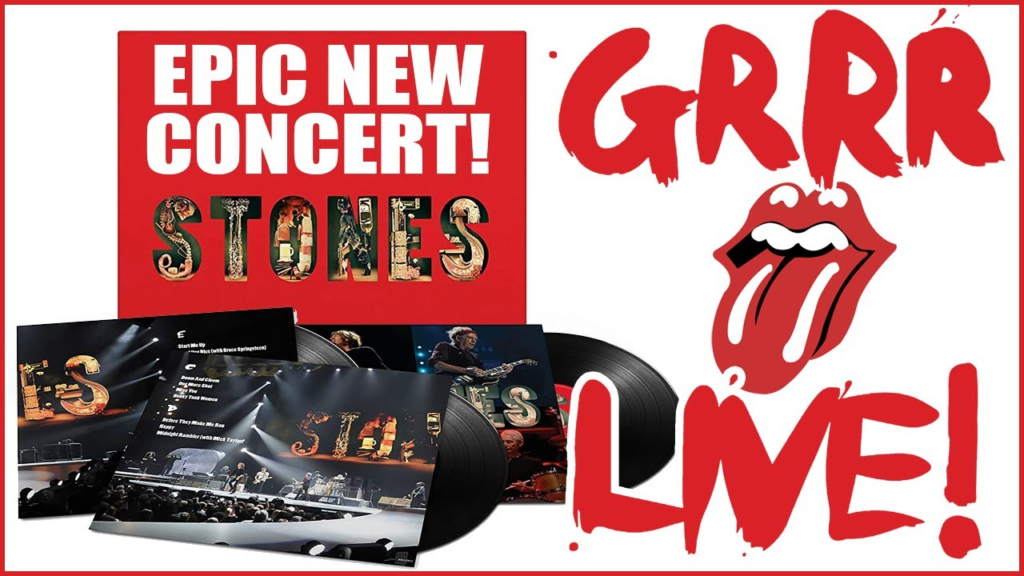 In November of 2012 the Rolling Stones released the greatest hits package GRRR! to celebrate their 50th anniversary. A month late on December 15, 2012 the Rolling Stones played the second of two nights at the Prudential Center to close this anniversary tour.
By "Rolling Stones Standards" this was a rather modest production but in many ways one could argue it enhanced the organic nature of the performance. Sure there were "ego" ramps and a video wall but it was more about the band and less Ringling Brothers than some tours. The show though really stood out because of a wide variety of guests. First up was a 26 year old Lady Gaga first off of her massive Born This Way album tearing up "Gimme Shelter". Vocally the song was perfect for her and she was about the only person alive in 2012 that could make Mick look sluggish. She flew around in massively high heals. A fun collaboration to say the least. Joining the band next was John Mayer and Gary Clark Jr for a cover of Freddie King classic "I'm Going Down". John was certainly a mega star at this time but Gary hadn't reach that stage quite yet so it was really cool to see the band recognize the two amazing guitarists. Watching Mayer wail did conjure up images of what could have been had he not be focusing on light rock. Mick Taylor then reunited with his mates for the Let It Bleed classic "Midnight Rambler". Keith and Ronnie really gave Mick and chance to shine as he wove his guitar and Mick's harmonica beautifully. Finally to but a cherry on top, in New Jersey, they perform "Tumbling Dice" with Bruce Springsteen. At least in the United States, all-time, Bruce is one of a handful of artists that has actually outsold the Rolling Stones so this is a real union of titans. But the beauty of it was how much fun Bruce appeared to be having.
If those amazing guests weren't enough there was still easily 1:30 of the Stones on their own doing hit after hit. The only "new" song on the list was the "Doom and Gloom" but it is amazing the quality of the "new" Stones songs. Even if radio programmers refuse to play anything past 1985.

GRRR LIVE! is available now on 2CD/2CD+DVD/2CD+Blu-Ray/3LP configurations.
Track List:

1 Get Off My Cloud
2 The Last Time
3 It's Only Rock 'N' Roll (But I Like It)
4 Paint It Black
5 Gimme Shelter (With Lady Gaga)
6 Wild Horses
7 Going Down (With John Mayer and Gary Clark Jr.)
8 Dead Flowers
9 Who Do You Love? (With the Black Keys)
10 Doom and Gloom
11 One More Shot
12 Miss You
13 Honky Tonk Women
14 Before They Make Me Run
15 Happy
16 Midnight Rambler (With Mick Taylor)
17 Start Me Up
18 Tumbling Dice (With Bruce Springsteen)
19 Brown Sugar
20 Sympathy for the Devil
21 You Can't Always Get What You Want
22 Jumpin' Jack Flash
23 (I Can't Get No) Satisfaction