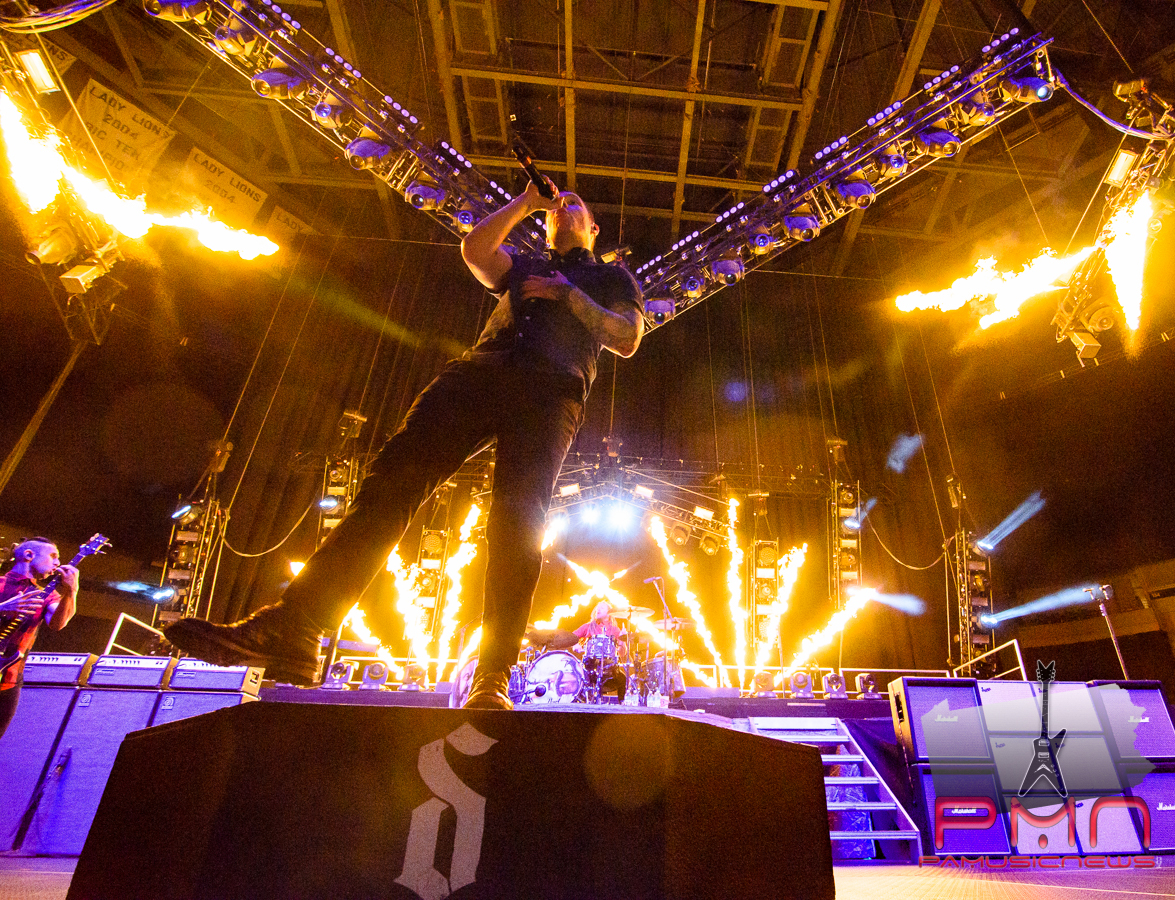 Photos and reveiw by Jason Hann of Pennsylvania Music News
State College, PA – The last home game of the season for Penn State Football is this weekend, but we had some business to handle inside the Bryce Jordan Center the night before! 3 of the biggest names in current rock and roll hit the heart of happy valley November 20th 2015. Shinedown, Breaking Benjamin, and Sevendust are all on tour now set to wrap up soon but not before they brought this massive tour to blue and white country.
Sevendust released their new album "Kill The Flaw" on October 2nd so a tour was inevitable right? Why not jump on one of the biggest fall tours of the season.  Sevendust has been melting faces all over the county for quite sometime, and it was great to see them back to Pennsylvania.  Lajon Witherspoon (vocals) and company let it all out there each and every time they hit the stage. The stage was packed full of gear and really limited space for these guys but it didn't take away from the energy up there. Kicking off the set with Black set the tone for the night inside Bryce Jordan Center. Hard, heavy, and intense was the theme for the next few songs until LJ took a moment to honor our soldiers and remember those involved in the Paris attacks by introducing  Angel's Son. Sevendust wrapped up with a few new songs off their new album Shine and Thank You.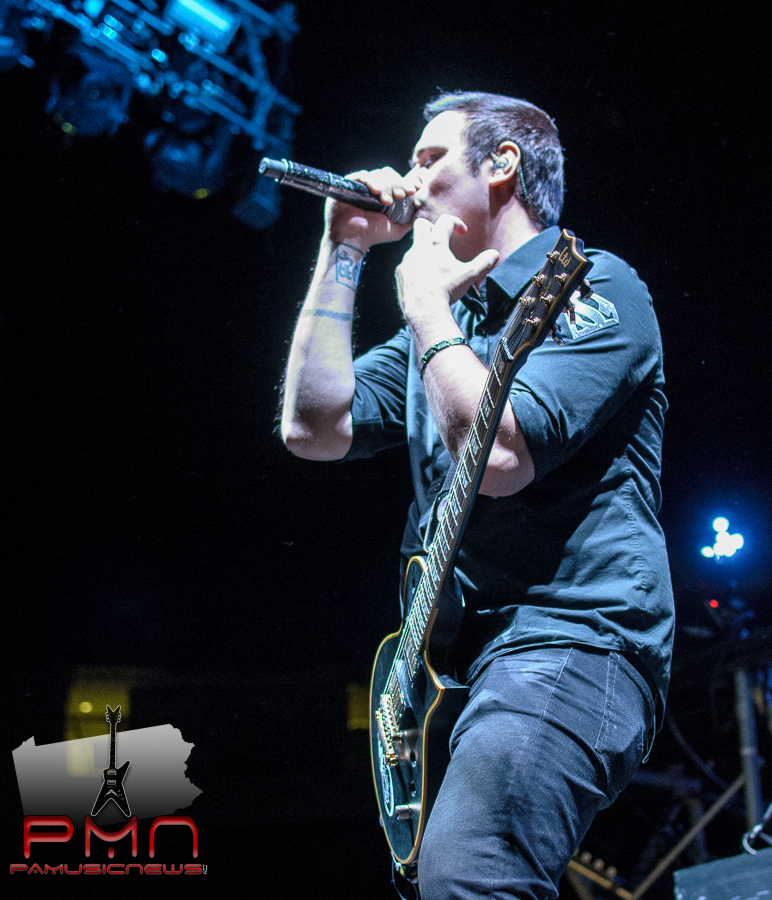 Pennsylvania natives Breaking Benjamin hit the stage next, and they did to a thunderous ovation. Looking around at most of the audience draped in their favorite Breaking Benjamin gear, it was no shock the roof blew off the place when they hit the stage. It's so great to see this band back on tour. After a hiatus in 2014 and Benjamin Burnley's recent health scare, it was in question as to what would happen to Breaking Benjamin. I'll tell you what happened to them, they worked through whatever issues they were having, and returned bigger and better than ever.
Breaking Benjamin smashed through old and new as to what seemed like a never ending set. Angels Fall , Follow Me, Breathe, as well as many others were all in the set.  A perfect rock rendition of The Imperial March (equipped with lightsabers) lead into an all assault on cover songs.  Tool's Schism , Nirvana's Smells Like Teen Spirit and Pantera's Walk were all included. At the end of the set Benjamin said "Let's do this for the kids" and invited every kid he could see, asking them one by one if they wanted to come up on stage and hang out with Breaking Benjamin. The stage was filled to the max for the last song they played, The Diary of Jane.
What really makes this band special is their kindness and the ability to always remain humble. Benjamin Burnley took ample time to pay respect to the great state of Pennsylvania and each fan in attendance during their 16 song set.  "The people in Pennsylvania allowed this to be possible for us. Without each and every one of you, we would not be here. Thank you and we fucking love you"! – Benjamin Burnley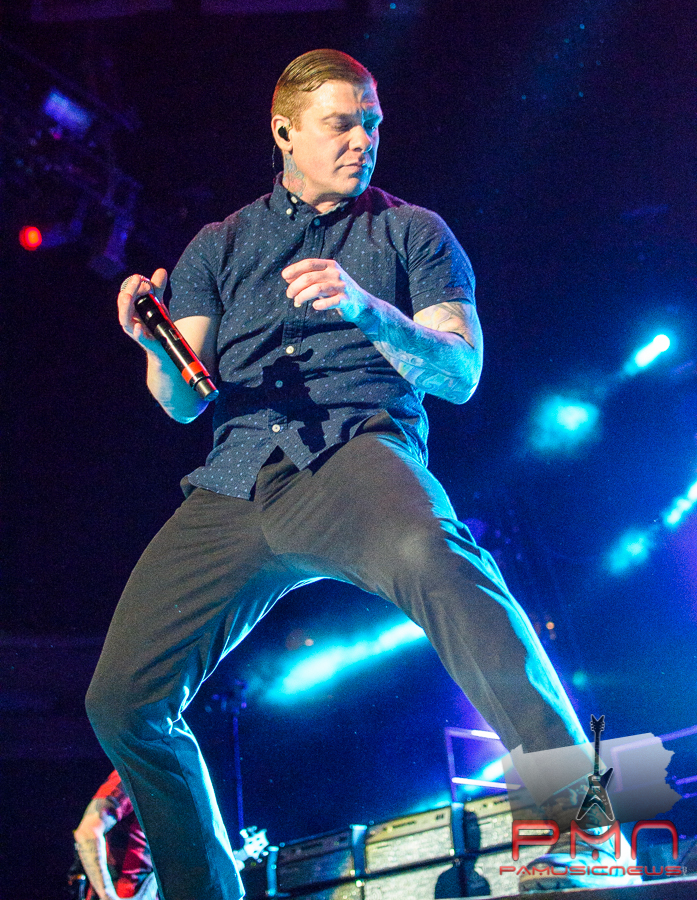 Rock giants Shinedown were the last on stage to finish off what was already a solid night of rock. Shinedown kicked off their set Cut the Cord off their newly released album Threat To Survival.  Shinedown then played Fly From the Inside and launched off enough pyro to ruin everything I've worked hard for during this #noshavenovember. I guess I'll have to start over, after all hockey season just started.
Brent Smith (vocals) took the time to say "It's been way too long since we have been in this building" and I couldn't agree more. He also took the time to to introduce the entire audience to each other. He even came down into our "photo pit" and shook each and every persons hand. Photographers, security guards, front row onlookers, it didn't matter, he wanted to shake the hand of each and every person there.
Shinedown ripped through 15 songs of old and new and proved that rock and roll is here to stay. From the small scale bar shows, to the arena's like this, rock and roll is alive and kicking. It takes people like all of these bands and each fan in attendance to keep it going loud and proud.
Sevendust at the Bryce Jordan Center
Breaking Benjamin at the Bryce Jordan Center
Shinedown at the Bryce Jordan Center
all photos ©2015 Jason Hann and Pennsylvania Music News