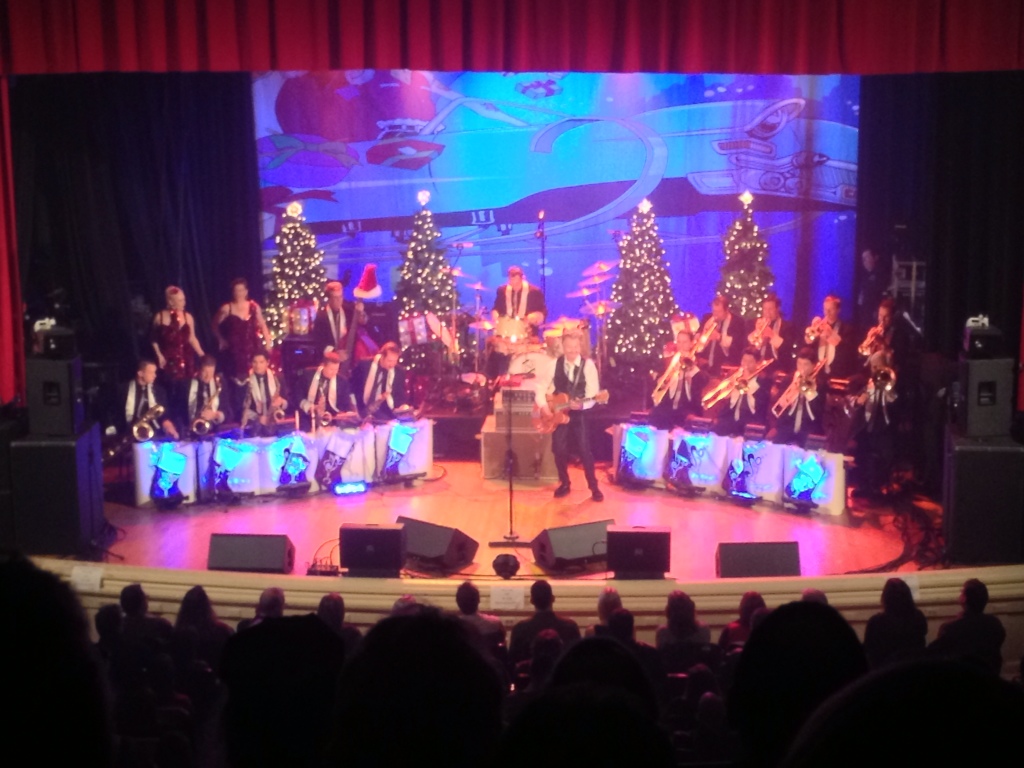 This past Sunday November 25 the Brian Setzer Orchestra brought their Big Band sounds to the Carnegie Music Hall in Munhall, PA. Just in case you are not familiar with The Brian Setzer Orchestra, here's a brief recap: Brian Setzer bursts into the Music of the 1980's fronting the Rockabilly outfit, The Stray Cats. They had some commercial success with songs like "Sexy+17" and "Rock This Town" and developed a pretty devoted following. Then they disappeared, at least to me they did to me. They seemed to be gone. I had my Stray Cats tape that I just about wore out,and I kept listening, hoping for new material. Enter the 90's….Brian Setzer Releases an album in 1994 titled simply "The Brian Setzer Orchestra", and it's Big Band style Jazz. Since I grew up listening to the likes of Woddy Herman and Glen Miller, and I was a fan of The Stray Cats, I figured I would give it a listen and of course I loved it. Through the 90's Brian kept releasing albums and scored a major hit with "The Dirty Boogie" which produced the hit single "Jump, Jive, and Wail!"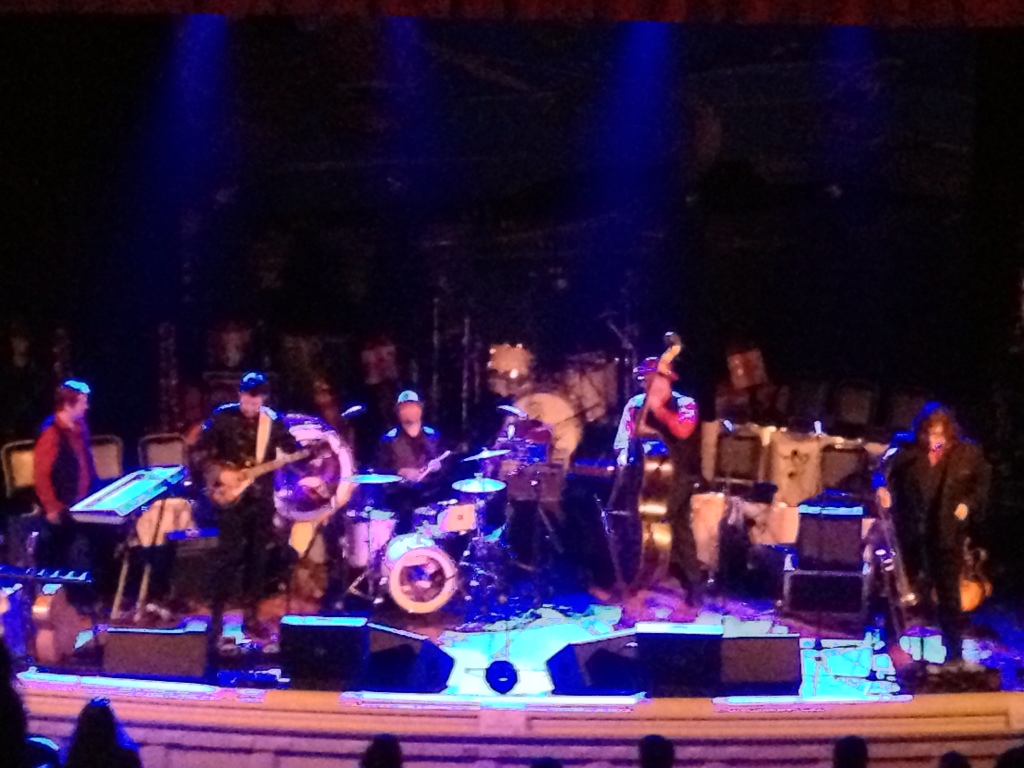 And that brings us to this past Sunday night. Brian and company came through on their 9th annual "Christmas Extravaganza" tour. The opening act was a band from Los Angels that I had never heard of called "Totsy". Totsy did what every opening act hopes to accomplish, they rocked the joint, got the crowd super warmed up and excited and converted a large number of the audience into fans. Their style is described as "Pop Burlesque". For readers my age and older, think the Andrew Sisters in corsets with some Tim Burton flair, for our younger readers think Lady Gaga toned down some singing songs that you could hear on a pop radio station, but your parents and grandparent would still enjoy it. Every song they played had a catchy melody and had the majority of the audience singing along. By the end of their set my wife and I decided to buy their CD, and when we got to the merch table, the band was there signing CD's, so ours is signed. It's a short disc, and we listened to it 3 times on the way home. It's a REALLY good disc.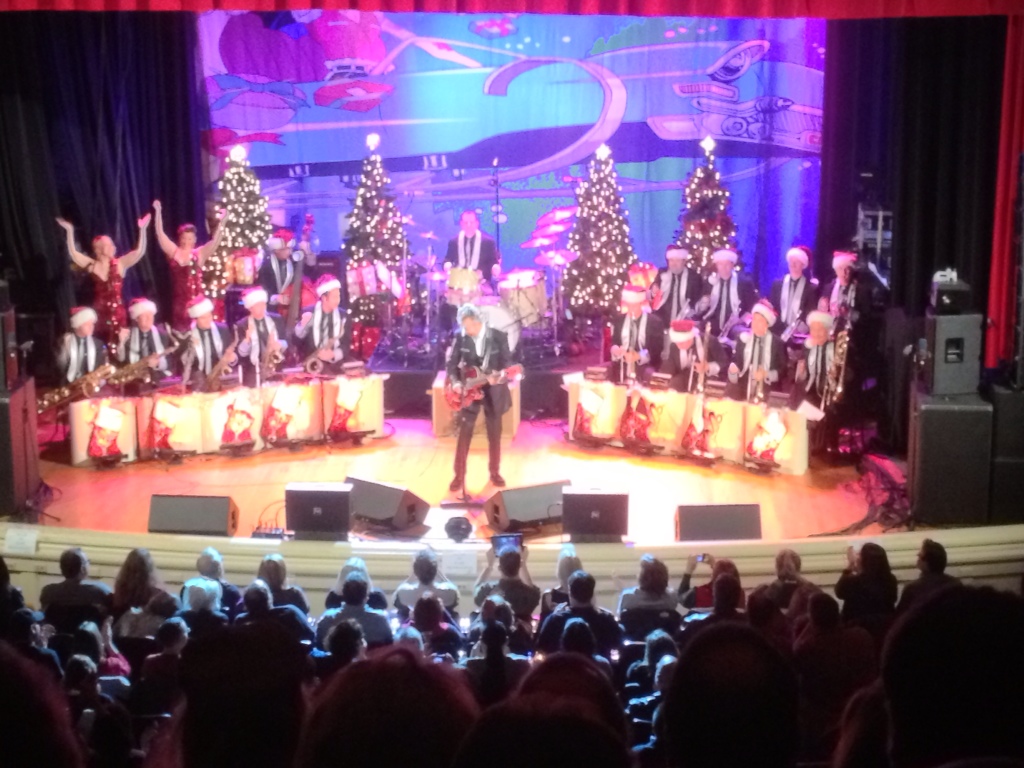 Next up was the Brian Setzer Orchestra. The band came on stage first, to which the crowd cheered. Then Brian took the stage and he crow went crazy! The opening song was "Dig That Crazy Santa Claus", Brian played a red sparkle Gretsch guitar. I realized as the night went on that his guitar choice were strategically chosen based on color and song choices. the guitar used were as follows: red sparkle Gretsch, green sparkle Gretsch, gold sparkle Gretsch, and his trusty orange 1959 Gretsch. At first Brian seemed a bit reserved. He came out in a three piece suit, and while his playing was still quite wild, his stage presence was dialed back from what I was used to. I was please to see that by the time the '59 came out, he firing on all cylinders! The tour is called the "Christmas Extravaganza" so I was expecting primarily Christmas music, even though what I really wanted to to hear some of the classics. I am sure I am in the minority with this, but I was pleasantly surprised to find that the set was a good mix of Christmas songs and Brian Setzer Orchestra standards. Out of the 20 songs that were played, only about 9 were Christmas Songs, so I can understand if people were upset that there were not more Christmas songs, but I thought it was a GREAT set.
Some highlights of the show were the solo sections of Songs like "Boogie Woogie Santa Claus" which featured a section of solos that reminded of the scene in "The Blues Brothers" where the band starts soloing to buy time for Jake and Ellwood to escape. Brian opened it up for the band to take some solos, and wow what a great set of solos it was! The band is truly a great set of musicians and Brian makes sure he showcases them. At one point during the show, the band (except the bassist and drummer) took a break and Brian returned to his Stray Cats roots and performed as a Trio. The song "Fishnet Stockings" featured a great bass solo that culminated with the drummer tapping out the rhythm on the strings while the bassist changed the notes.
I thoroughly enjoyed the show and would love to see the band again soon. The Brian Setzer Orchestra performs Big Band music the way that I always thought it should be done, driven by a guitar. If you missed the show, or if you are doing some research befor you go to see them play in your hometown, I posted the setlist at Setlist.fm.