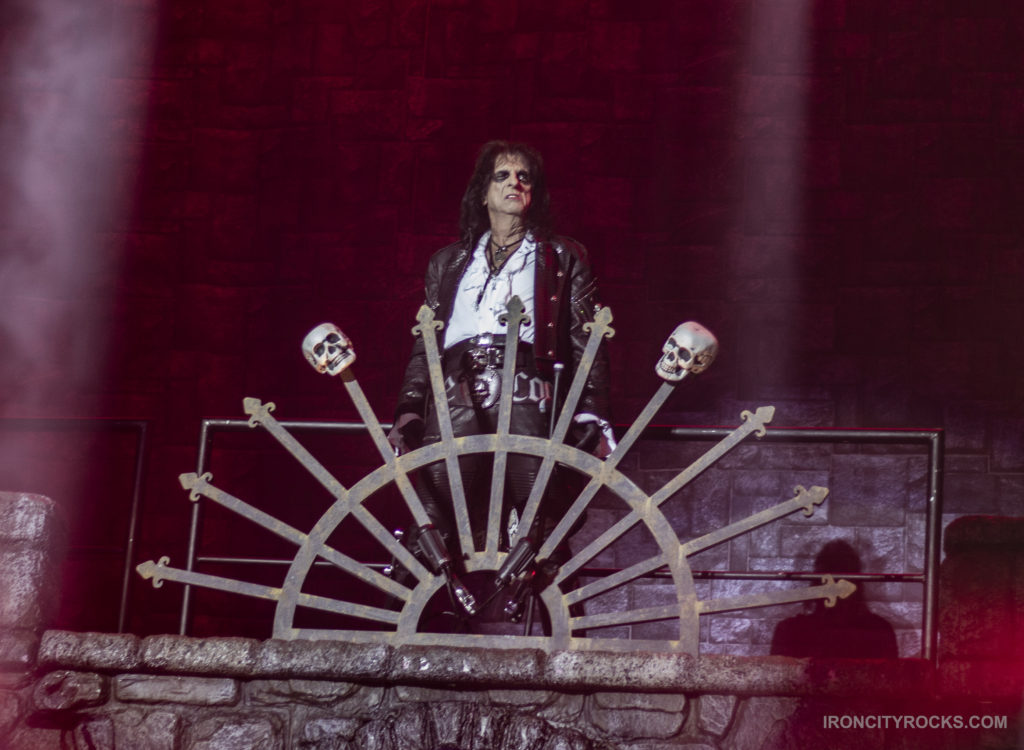 Photos and Review by Dave Kasiorek
Motionless In White kicked off what was the best tour I've seen all year…. and the hottest day of the year. Despite the heat and being in direct sunlight Motionless In White brought their desire and energy to leave those who were already attending head banging and fist pumping through out their set.
Halestorm opened their set with the heavy "Black Vultures" as Lizzy Hale screamed with bloody rasp in her voice to thousands of hungry rock and roll fans. With multiple extended solo sections, sing along songs, and crowd pleasing interaction Lizzy Hale and Co. showed you why she is a current rock goddess especially in the last song of their set "I Miss The Misery" where the audience chanted the main guitar riff along with the band as they harmonized vocal with guitars, pretty cool.
When the sun finally went down and the heat dropped from 100 to 95 this eager crowd was ready to be haunted by the original man of horrors in rock, Alice Cooper! With a dark intro where a giant arm raised from the dead into dark red and black eyes on a back splash and torch lights could be seen flickering through the darkness this crowd was ready to enter the castle of horrors as Alice called it. The band erupted on stage of an amazing castle themed set where Alice Cooper and Nita Strauss entered center stage through a foggy door following an uproar of crowd response. "No More Mr. Nice Guy", "I'm Eighteen", "Billion Dollar Babies", "Poison" were amongst the set of sing along anthems, Alice Cooper style. Let's not forget about this band filled with 3 incredible guitar players with totally different styles. The extended solo sections would leave any rock and metal fan drooling for more. Ryan Roxie with his finesse and soul filled of old school rock and roll, Nita Strauss with her speed, crunch, and diversity and last but not least Tommy Henriksen with his bluesy vibe. This show was a total rock marathon. But there was one point in the show where I thought, WOW, now this is pretty damn amazing. The ballad style "Dead Babies" Followed by "I Love The Dead" showed that even at 71 years old Alice Cooper is still the man of horrors. Through the mist and fog in a straight jacket Alice broke free and ripped a baby doll from its stroller and creeped the stage as actors fell in disbelief. Upon attempting to sacrifice the baby doll with a meat cleaver, Alice was attacked and sentenced to death by guillotine. A few drum rolls later and CHOP, off with his head as the actors grabbed Alice's severed head and scanned the stage as a giant baby doll reaped around the band as they played one hell of a trade off solo. This for me was one of the best stage shows I have seen at a concert and I was very impressed. What was even more impressive is the fact that at 71 years old and in blistering heat, Alice Cooper delivered us the horror that we all came to see. What better way to send off this amazing show than "School's Out" featuring Lizzy Hale with bits and pieces of "Another Brick In The Wall" by Pink Floyd. It was a show that I could have watched again and again and again.