Tonight in Greenville, SC the waiting comes to an end. The legendary Bon Jovi begin their 2017 This House Is Not For Sale tour. Each show of the tour will be available for purchase on a special, USB bracelet so fans can relive their Bon Jovi experience again and again. Bon Jovi have launched a special contest where local bands can submit videos of themselves for a chance to with the coveted opening slot each night. Keyboardist David Bryan and drummer Tico Torres recently talked about the tour.
In talking about the opening act contest, can you guys just reminisce for a minute on your experience in 1983 when you guys, in what had had to be a huge break for a band from New Jersey, playing Madison Square Gardens with ZZ Top?
Tico Torres: Yeah. I took the train in. I remember that. It was, like, I took the train in, got there, we played a million miles an hour and our nerves were on end. It went so fast that I didn't even really get to enjoy it. So, is that the way you felt, David? It kind of went pretty fast for me.
David Bryan: Oh, yeah. I mean, first we were an unsigned band. That was a manager at the time trying to manage us that gave us that slot. And we went out there and did it. You went from a club to playing the Garden, which is where we grew up. That's where all the biggest bands in the world were. That's where I saw everything.
Tico Torres: Richie's amp didn't work and it was like an eternity. It was probably like 30 seconds and felt like 10 hours, but we got it working. And we were sitting up there.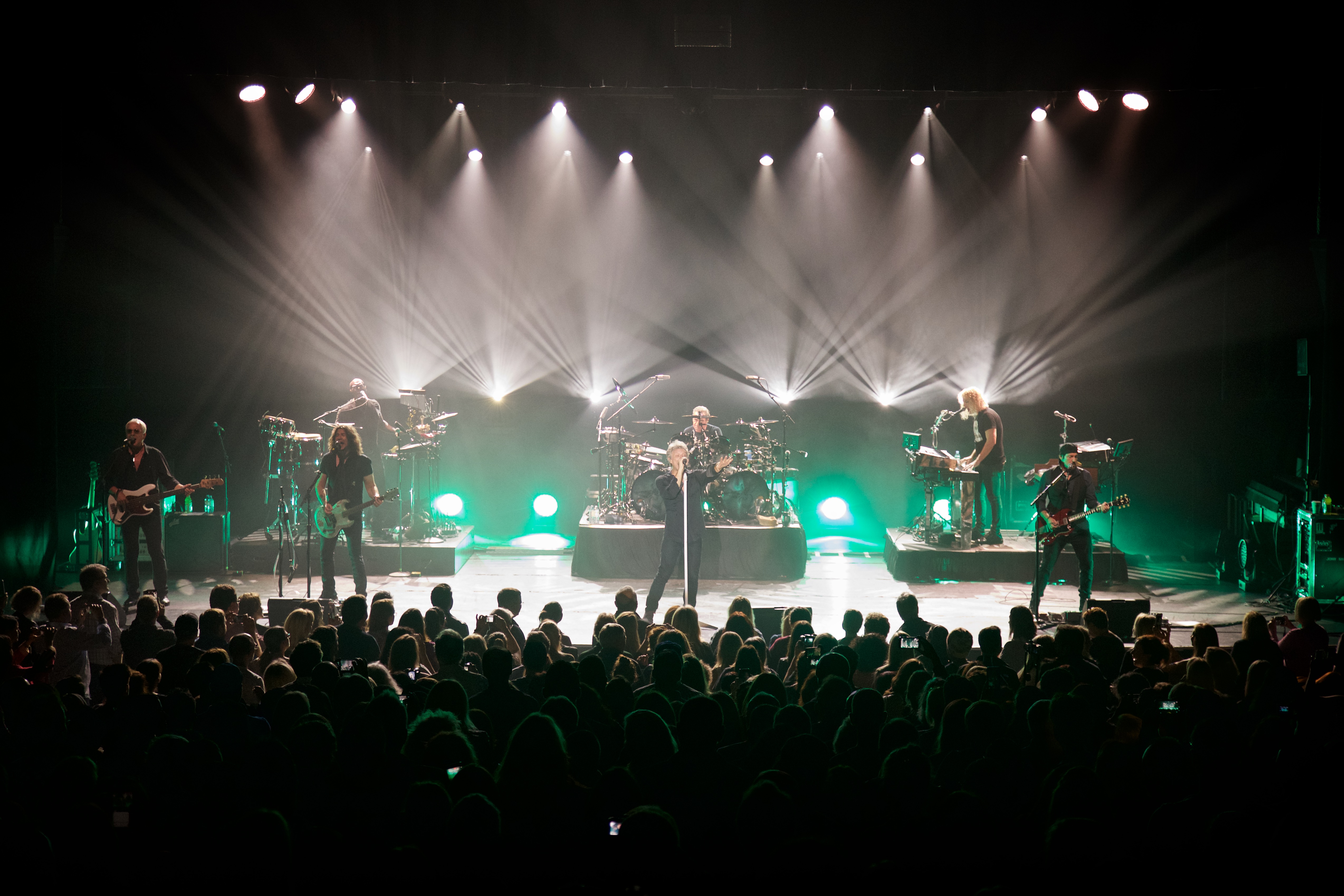 Why is it important for veterans like yourself to give back to the younger community? And what other advice do you have to new artists and bands coming up today?
Tico Torres: Well, a couple of things. When we grew up, there was a million clubs to play at. That was before disco came in and DJ's and club owners decided it was cheaper to have one guy instead of a band. That hurt music, I think a lot, local music in not only New Jersey and New York, but around the country. So, it's harder to find venues for guys to play at. I'm glad we grew up in our era, because we had plenty of places to play at. I see now, you know, you're going to see a resurgence, like there is in life. It always comes back in not only music styles but ideals of how to play music. So, maybe this is one way to let the kid or man or woman that's playing music and say, "I'd like to put my stuff out there." You never know. You might find a shining star and just by supporting it, it's kind of cool. They'll be able to go out there and play for thousands of people. That's kind of my view.
David Bryan: In Jersey, there is a resurgence. Once they changed the drinking age from 18 to 21, that really changed the scene a lot. But now, there's a bunch of places in Jersey, Dayton and Asbury Park, and at Redbank and at different towns where there are live bands that are playing, and some of those bands aren't just covers, they're playing original. So, it is good to see that people are starting that again and for us to give somebody a chance like that, it feels good for us. It's the right thing to do. My advice is write songs. It takes a lot of hard work to get lucky, so you've got to be in it to win it. So, you've got to be out there working and playing and working and playing, so I think it's a great thing.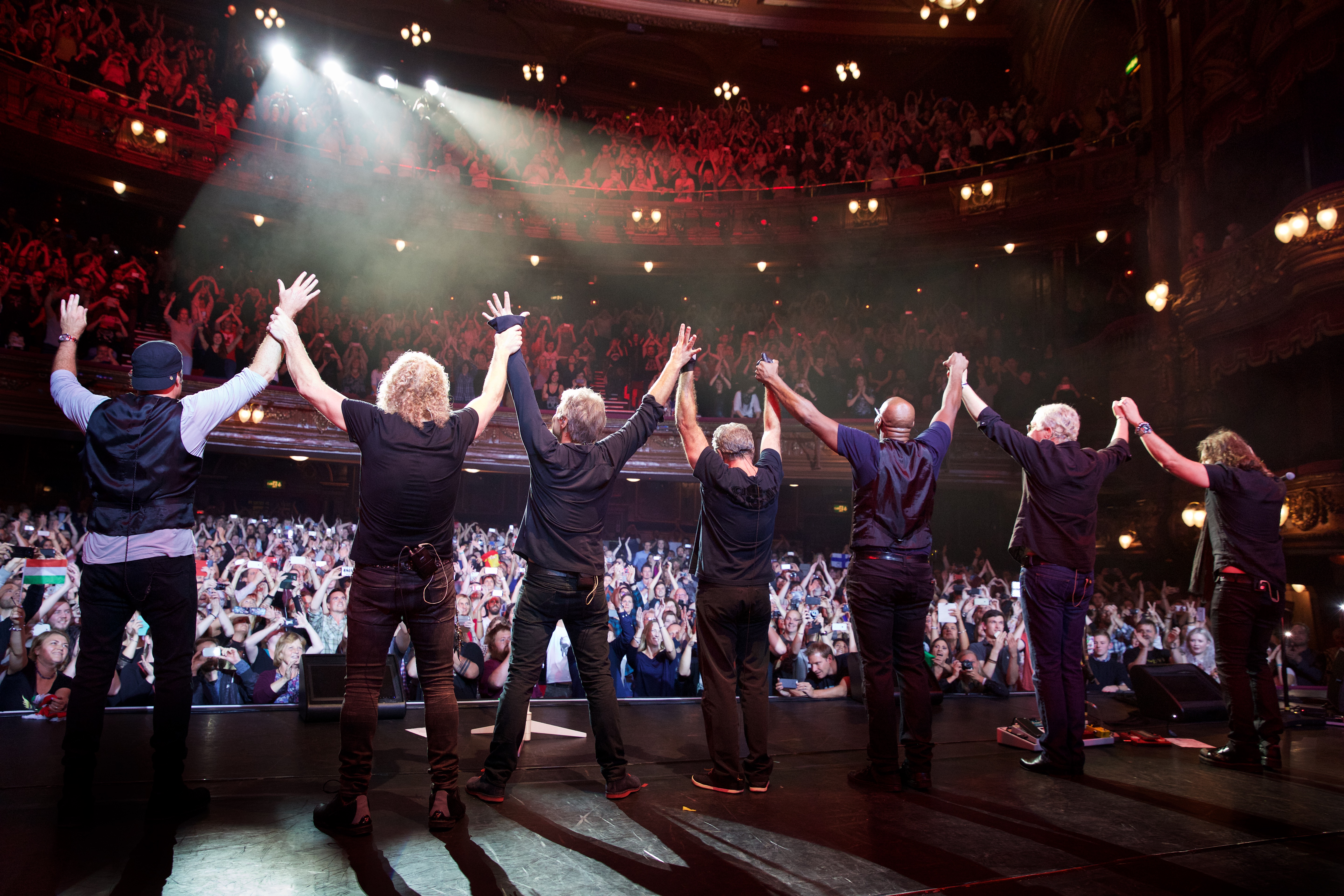 Bon Jovi tours always have a certain look to them and good technology. What's this tour going to be like?
Tico Torres: Well, we're doing it based off of "This House Is Not For Sale" kind of format and giving it those kind of lines. But it looks like we're doing a lot more stuff in the round and have some people behind us as well, which actually we always loved that, instead of the proscenium. We'll be able to have actual fans behind you while you're playing. And it's quite simple and it's movable. There's a lot of motion that goes with the songs. And believe it or not, we're rehearsing it now and still trying to get used to it. When you're on stage you see it a little differently than when you're in the audience.
How were the tour rehearsals been going so far? And I'm wondering: Do you guys just fall right into the rehearsal process? Or is it kind of something that you have to build towards or do you just fall right into it?
Tico Torres: Most of the time we kind of fall into it. Again, it's just like learning how to ride a bicycle. You don't really forget; you've just got to get back on there. And it's also a new set and new lighting, and a new shell. Our crew is diligently working every minute of the day. So, it's a complex cog/wheel. We're just the music part, but then there's all these other cogs working hard to put on a show and make it all time-wise, from the bottom to the top.
Are there any songs in the catalog that you especially look forward to playing every time you go out on tour?
Tico Torres: Two of my mine remains is "Wanted Dead or Alive" and "Livin" On A Prayer" obviously. That has transcended time and it's hit people in a certain way. It's not only thematic, but it seems to, if you had to, sum up Bon Jovi's legacy. Those songs would be probably at the top of the list, and I think because of the optimism. David?
David Bryan: Yeah. I mean, and it's amazing those songs, and then "It's My Life," and there's a lot of great songs there. So, it's kind of hard to say which is your favorite, but those are classic ones that keep going forward. We're blessed by that. We touch a nerve within our audience and it definitely transcends time.
Bon Jovi bring the This House Is Not For Sale tour two the PPG Paints Arena on Wednesday, April 5. Tickets are available now at Ticketmaster.