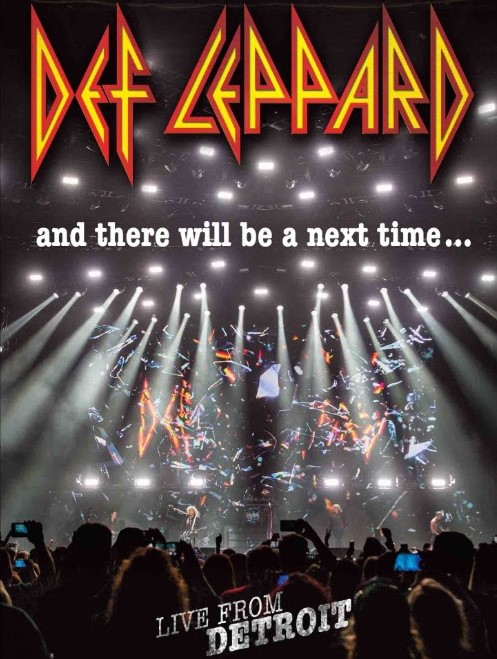 Def Leppard has been no stranger to the long form videos. Since 1989's iconic In The Round: In Your Face the band has given the fans several chances over the years to enjoy the live experience at home. Eagle Rock Entertainment's And There Will Be A Next Time: Live From Detroit captures the band doing a 90-minute set on the road promoting their 2015 self-titled album. Aside from the obvious editing out of audience interaction between songs, this gives fans what they can expect to see every night.
It was great to see Vivian Campbell back to himself and taking a decent number of solos and looking healthy again. It was fun to realize that the wall of guitar amps was nothing more than video screens with the likeness. The band injected four songs off of the latest album which for a band of their history, is quite a bit. Savage blended a bass solo into "Rock On" and then fused it seamlessly into the groovy "Man Enough". It is nice to see that the band was actually singing those Beach Boy-like harmonies. The remainder of the set comprised a heavy amount of High 'n Dry, Pyromania and Hysteria but that had to be expected and dare I say, demanded, of the crowd.
And There Will Be A Next Time: Live From Detroit is available in DVD/CD and Blu-Ray/CD combo packs now.
Track Listing:
Let's Go
Animal
Let It Go
Dangerous
Foolin'
Love Bites
Armaggeddon It
Rock On
Man Enough
Rocket
Bringin' On The Heartbreak
Switch 625
Medley: Hysteria / Heroes
Let's Get Rocked
Pour Some Sugar On Me
Rock of Ages
Photograph