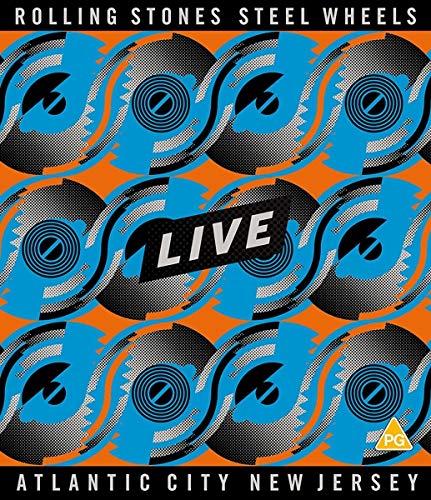 If you take away anything from this nearly 3 hour performance, know that The Rolling Stones' material on 1989's Steel Wheels was very, very strong. This performance captured the Stones on December 19, 1989 during a three night stint at Atlantic City, New Jersey's Convention call. The set featured five tracks "Terrifying", "Rock and A Hard Place", "Sad, Sad, Sad", "Mixed Emotions" and Keith on vocals on "Can't Be Seen". These vintage, for lack of a better word" shows really give you a chance to appreciate the album-based tours and hear songs outside of the greatest hits collections. For hard-core Stones fans that is enough to pull out the credit card but add to that the shows features W. Axl Rose and Izzy Stradlin of Guns 'n Roses on brilliants performance of Beggar's Banquet's "Salt of the Earth". Add to that blues pioneer John Lee Hooker and Eric Clapton joining the band for "Little Red Rooster" and Boogie Chillen'". So in one night, 8 members of the Rock and Roll Hall of Fame came together.
With any Rolling Stones concert offering offers the skeptical and pageantry of arguably the great rock band every. Mick has more energy that men half his age in his 70's so imagine him at 46! Keith, well looks the same as he does now. The tour also marked the last with founding member Bill Wyman on bass.
Steel Wheels Live will be released as a limited 180gm 4LP colored vinyl, DVD + 2CD, SD Blu-ray + 2CD and digital formats. Additionally, the set will be released as a special limited 6-disc version, which includes the Atlantic City performance on DVD, SD-Blu-ray, 2CD, a DVD of their Steel Wheels tour performance at the famed Tokyo Dome, as well as Steel Wheels Rare Reels, a CD featuring tracks which didn't feature on the core tour setlist.
Track list:
DVD:
1. Intro
2. Start Me Up
3. Bitch
4. Sad Sad Sad
5. Undercover Of The Night
6. Harlem Shuffle
7. Tumbling Dice
8. Miss You
9. Terrifying
10. Ruby Tuesday
11. Salt Of The Earth (featuring Axl Rose & Izzy Stradlin)
12. Rock And A Hard Place
13. Mixed Emotions
14. Honky Tonk Women
15. Midnight Rambler
16. You Can't Always Get What You Want
17. Little Red Rooster (featuring Eric Clapton)
18. Boogie Chillen (featuring Eric Clapton & John Lee Hooker)
19. Can't Be Seen
20. Happy
21. Paint It Black
22. 2,000 Light Years From Home
23. Sympathy For The Devil
24. Gimme Shelter
25. It's Only Rock n Roll (But I Like It)
26. Brown Sugar
27. (I Can't Get No) Satisfaction
28. Jumpin' Jack Flash

 2CD

Tracklist:
Disc 1
1. Intro
2. Start Me Up
3. Bitch
4. Sad Sad Sad
5. Undercover Of The Night
6. Harlem Shuffle
7. Tumbling Dice
8. Miss You
9. Terrifying
10. Ruby Tuesday
11. Salt Of The Earth (featuring Axl Rose & Izzy Stradlin)
12. Rock And A Hard Place
13. Mixed Emotions
14. Honky Tonk Women
15. Midnight Rambler

Disc 2
1. You Can't Always Get What You Want
2. Little Red Rooster (featuring Eric Clapton)
3. Boogie Chillen (featuring Eric Clapton & John Lee Hooker)
4. Can't Be Seen
5. Happy
6. Paint It Black
7. 2,000 Light Years From Home
8. Sympathy For The Devil
9. Gimme Shelter
10. It's Only Rock n Roll (But I Like It)
11. Brown Sugar
12. (I Can't Get No) Satisfaction
13. Jumpin' Jack Flash